Maybe you hear a lot story that a hero earn big money through bottle water business in Africa. That is ture do not need doubt. It is the special earn big money chance belong to Africa.
There are several reasons why starting a bottled water business in Africa could be a financially viable venture:
1.No super competitor
Yes, It is the most important reason why there is a lot chance for start bottle water business in Africa. If a place have a lot super competitor that will leave a little room for a lot starter to start bottle water business. Super company not only cheaper materials price but also good marketing experienced, they have a lot advantage.
Why a lot africa place do not have super competitor. Because there is no big raw water resource. No any big lake or big river as stable resource water. So invest a billion factory in Africa most place is meaningless for super company.
But Africa have a abundant undergroud water. It can easy drilling borehole as raw water for small bottle water plant. As small bottle water plant cost water flow not big.
2.High demand:
In many parts of Africa, access to clean, safe drinking water can be a challenge. As a result, there is often high demand for bottled water products. This can create opportunities for entrepreneurs to meet this demand and earn a profit.
3.Growing market:
The bottled water industry is a growing market in Africa, with increasing demand for both traditional and alternative water products. This presents opportunities for new businesses to enter the market and gain a share of the profits.
4.cheap labor cost:
It is true that labor costs in many parts of Africa are generally lower than in other parts of the world. This can be attractive to businesses looking to reduce costs and increase profits. However, it is important to note that labor costs are just one factor to consider when deciding to do business in a particular location.
5.cheap workshop costs:
The cost of renting or purchasing workshop space in many parts of Africa may be lower than in other parts of the world. This can be attractive to businesses looking to reduce costs and increase profits.
Overall, it is important for choice where to location the workshop for bottle water factory.
6.water bottling machine cost cheap:
Because of most bottle water company start with borehole water as resource water. Its flow no big so that do not need big capacity of production water bottling machine at all. They just need 1000LPH-5000LPH water bottling machine. It can help save large number of water bottling machine cost.
A lot manufacturer of water bottling machine is aim to super company. Their machinery design for big speed like 10000bph to 80000bph which price range from 1million to 50million dollar. It not fit most africa bottle water company.
Neptune machinery company builded larger number of water bottling factory in Africa. To assist a lot bottle water company start bottle water business. We mainly supply 1000 bottles per hour to 8000 bottles per hour water bottling plant. Price range from 32k to 150k dollar only. Here is a very popular plant famous all over the world for a lot bottle water company first start.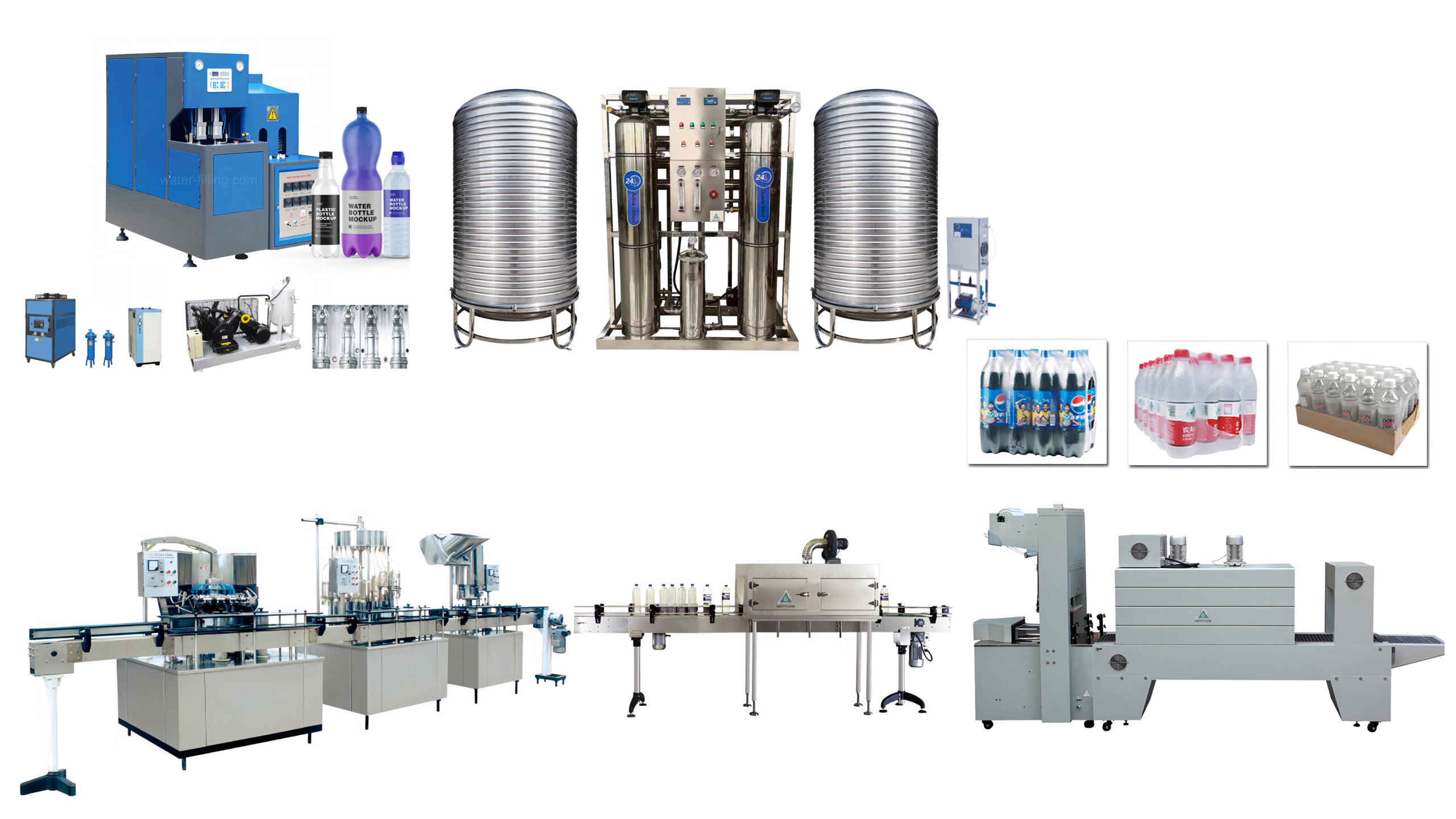 It is an compeletely water bottling line included all necessary equipment from A to Z. What machine needed for a complete water bottling plant?
1. Bottle blowing machine
2. Bottle water washing filling capping machine
3. RO water purification
4. Date printer
5. Bottle labeling machine
6. Bottle packing machine
It is important to note that starting any business involves risks and challenges, and it is important for entrepreneurs to carefully consider all factors before making a decision. It may also be helpful to seek guidance from industry experts and seek out resources, such as business development services, to support the success of the business. Here neptune machinery is the professional manufacturer and supplier for complete water bottling line, please do not hesitate to contact us for more information.