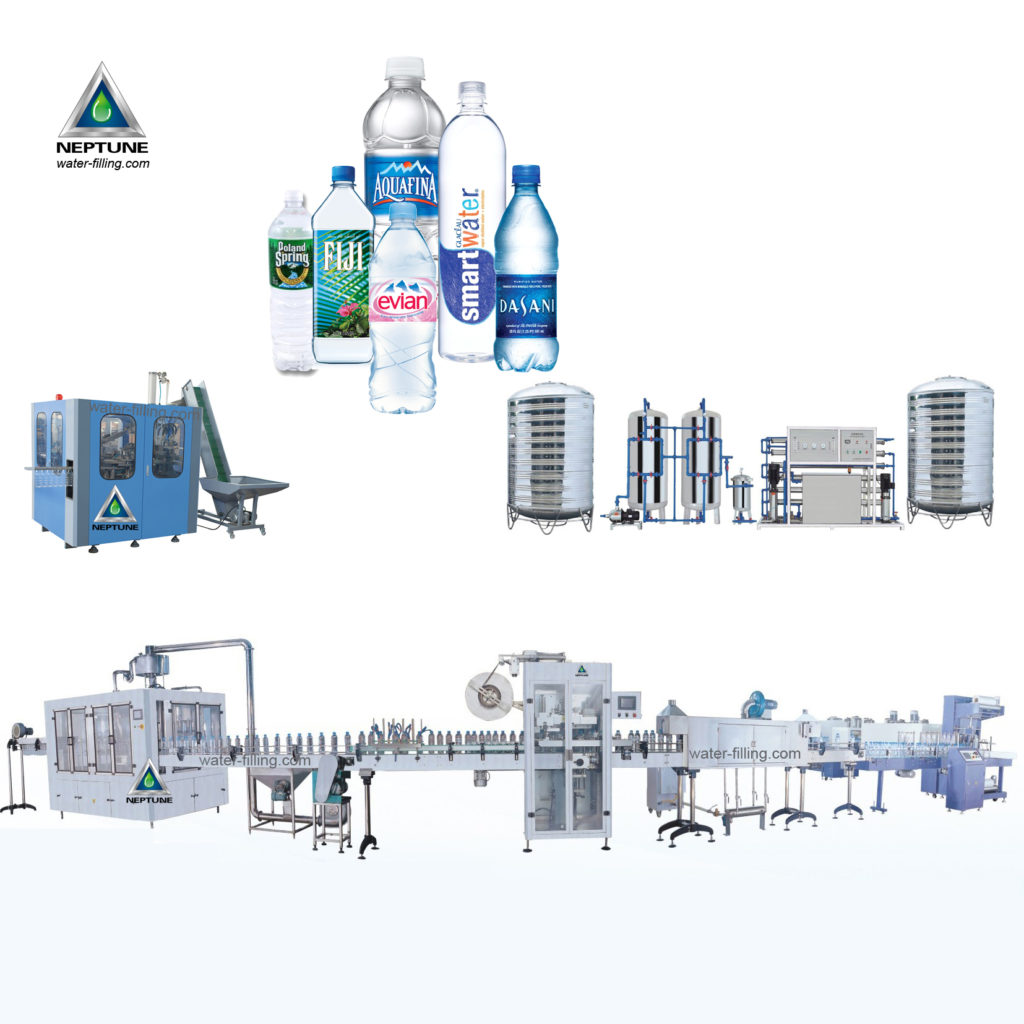 4000BPH Automatic Bottled Water Plant
It is the bottled water plant needed to open an bottle water factory. Mainly for produce 200ml to 2000ml bottle water. Its capacity of production is 4000bottles per hour.
Capacity Scale of Bottle: 250—2000ml;
Capacity of Production: 4000Bottles/Hour (500ml bottled water standard)
Drink Kind: Mineral Water, Pure Water, Spring Water, Distilled water.
Machinery needed to start bottle water factory
Layout factory for 4000bph water bottling line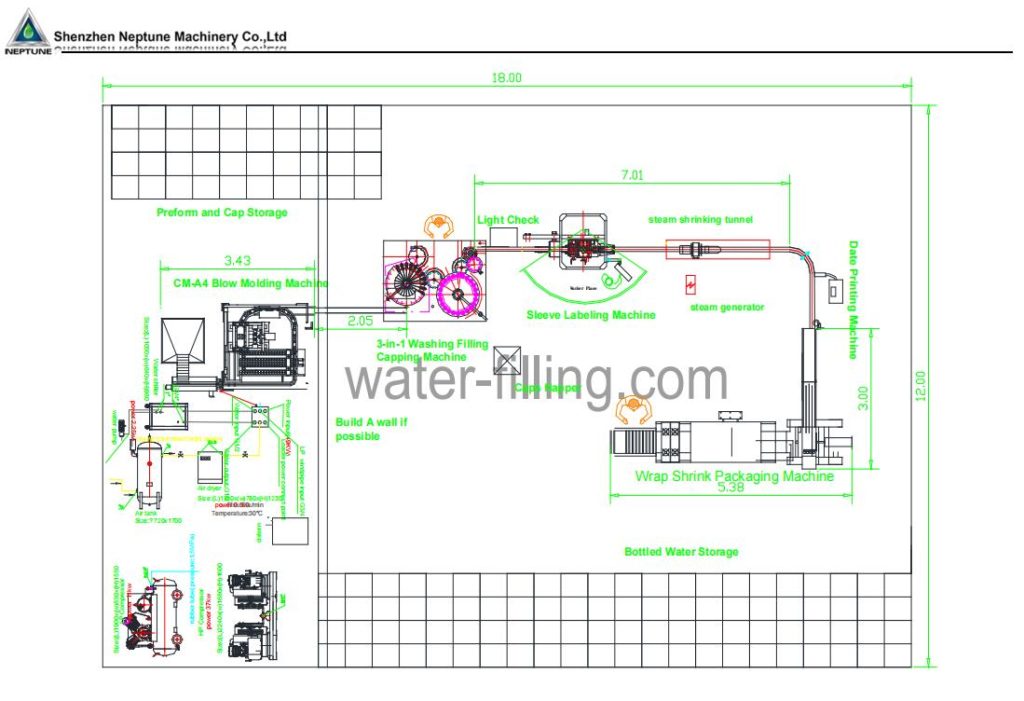 Bottle water factory room better find first floor. 
It need closed to the road. So that truck can easy enter factory door. Usually factory need an forklift loading product into the truck. 
10meter width and 20meter long Factory production room is enough.
Know more about it, please contact us.
Process of water bottling production
Preform automatic loading by the preform unscrambler. Then sending to heating process. After heating, preform will blowing into plastic bottle by blow molding machine.
The plastic bottle will been sending to filling machine by air conveyor system. Then filling machine will washing it and filler pure water into it. Finally will capper it into bottle water
The bottle water will be conveyor in the belt. The sleeve labeling machine will automatic sleeve label on every pass bottle water. The label will got tight on the bottle water after go through the shrink tunnel.
Wrap shrink packing machine will finished the last step which use PE film to packaging 6/12/24 bottles water into one packaging and will convenient for customer to carry.
---
Video of 4000bph bottled water production line factory
NEP-4000BPH plant is the TOP best sales water bottling Plant 
It is mainly suitable for bottling of round or square polyester bottles.
It can through change different mold to produce different bottled water.
It has advantages, such as high automation level, compact structure, beautiful appearance, convenient and simple operation, safe and reliable and adjustable continuous production capacity and others.
Produce high quality plastic bottle in your own factory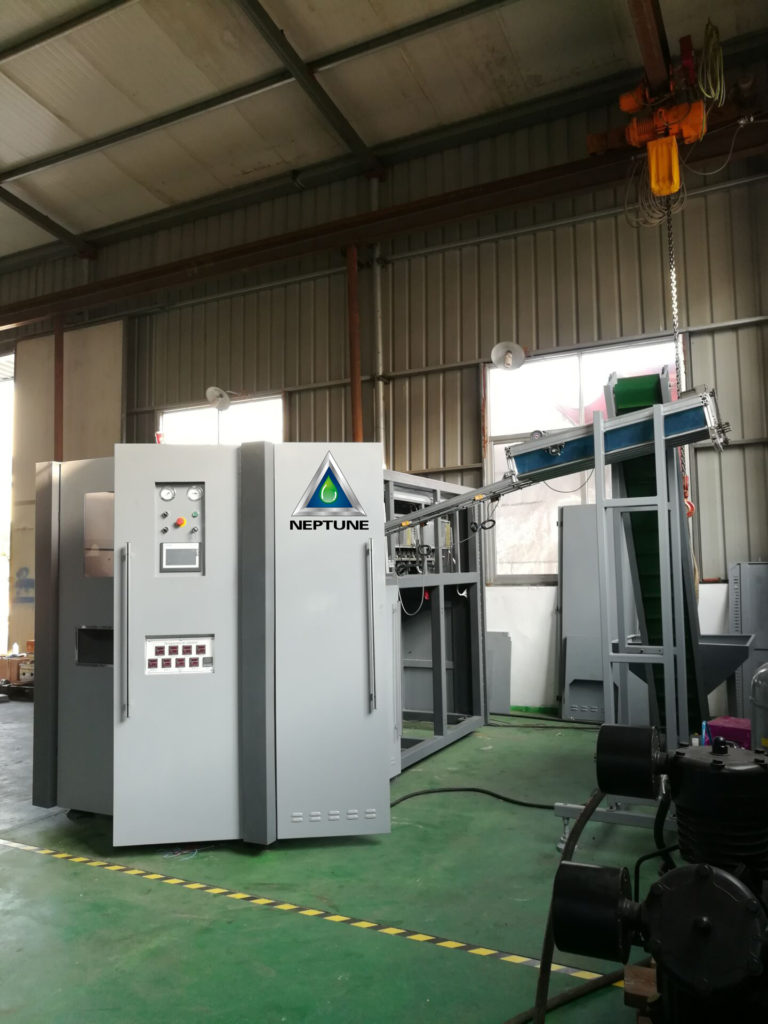 Outlook of blow molding machine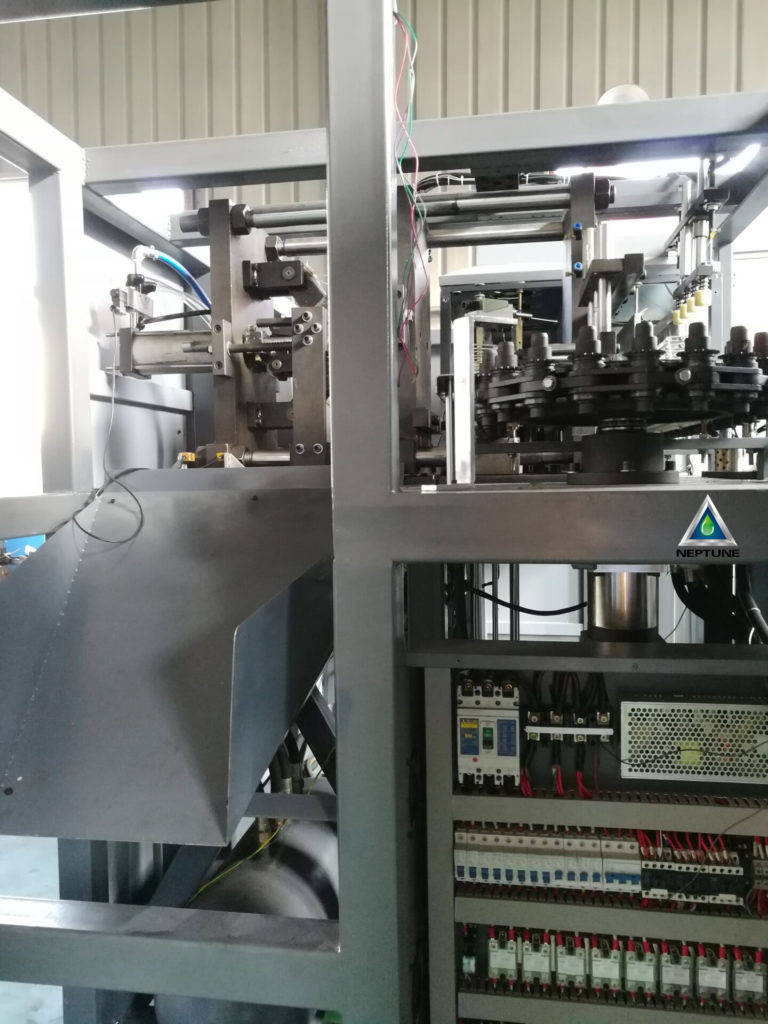 Best element of blow molding machine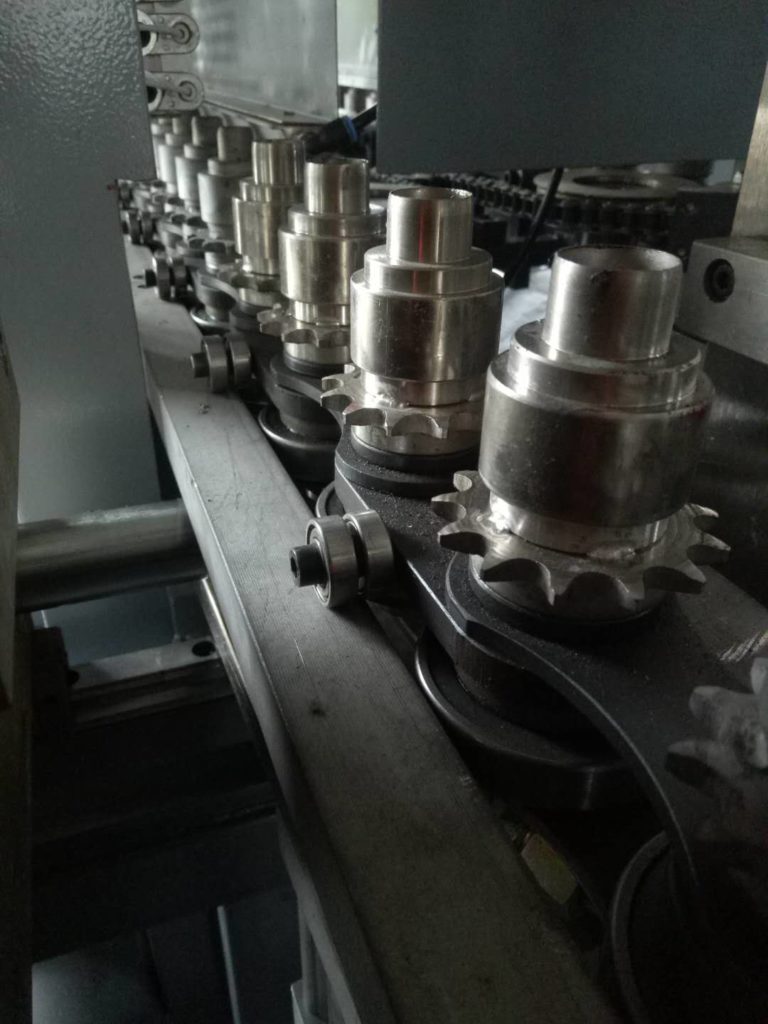 Jack conveyor preform system of the blow molding machine
Blow Mold
Dilivery time
Whole line need 45days to produce.
Do neptune company offer oversea installation and training
Even now COVID-9, we stilll try our best sending Africa branch maneger engineer fly to installlation.
How many kind of bottled water can one line produce ?
NEP-4000BPH line default come with 1kind of bottle mold. If you need extra mold, you can order extra mold advance, We will produce all machines and mold together well. The bottling line can through change mold produce different shape and volume bottle water. If you want this line produce 350ml, 500ml , 750ml , 1000ml, 1500ml, 2000ml bottled water, you need add extra 5kind of mold cost.