$ 13,700.00
What This Price Included?
| | | |
| --- | --- | --- |
| 1 | BM-4 4Cavity Blow Shaping Machine | 1 SET |
| 2 | Rotating oven; | 1 SET |
| 3 | HP & LP Air compressor; 1.5M3/min 30KG | 1 SET |
| 4 | 0.6m3 Air Tank | 1 SET |
| 5 | Refrigeration Air Dryer; 1.0M3/3.0Mpa | 1 SET |
| 6 | Air filter 1.5m3/min 30KG | 2SET |
| 7 | 4Cavity blow mold (200-2000ml) | 1SET |
| 8 | Mold Air-Cooling (Cooling the mold to make sure machine continued running) | 1SET |
| 9 | Spare part | 1SET |
Bottle blowing machine for production plastic pet bottle for sport drink , mineral water , purified water and vitamin water bottle package. It is the fast semiautomatic bottle blowing machine for making plastic water bottle. It is automtiac fall down bottle system which do not need worker manual carry the plastic bottle out.
2000BPH PLC control Semi-Automatic 4 cavity bottle blowing machine is the new equipment which produces plastic containers of PET. And it can blow well 4psc plastic bottle at same time.
It has the advantages of energy-saving, small size, low investment, (fast money back), efficient, and reasonable structure and is widely used in food, medicine, cosmetic, pesticide-killer, chemical and beverage packaging industries.
Technical Parameter of 4 cavity bottle blowing machine
| | |
| --- | --- |
| Product material | PET Preform |
| Volume | 200ml to 1000ml |
| Theoretical output | 2500PCS/H |
| Preform length | 55mm-150mm |
| Preform inner diameter | Φ20mm-30mm |
| Max. mould plate Dimension (L x W) | 460×330×160MM |
| Max. mould thickness | 180mm |
| Clamping force | 45KN |
| Mould opening stroke | 160mm |
| Main machine (L x W x H) | 1660x820x2150MM |
| Main machine weight | 1000Kg |
| Heater (L x W x H) | 2160x580x1350 |
| Heater weight | 300Kg |
| Power | 26kw |
Video of the fast 2500BPH water bottle blowing machine
Once Produce 4psc Bottle, Bottle Automatic Fall Down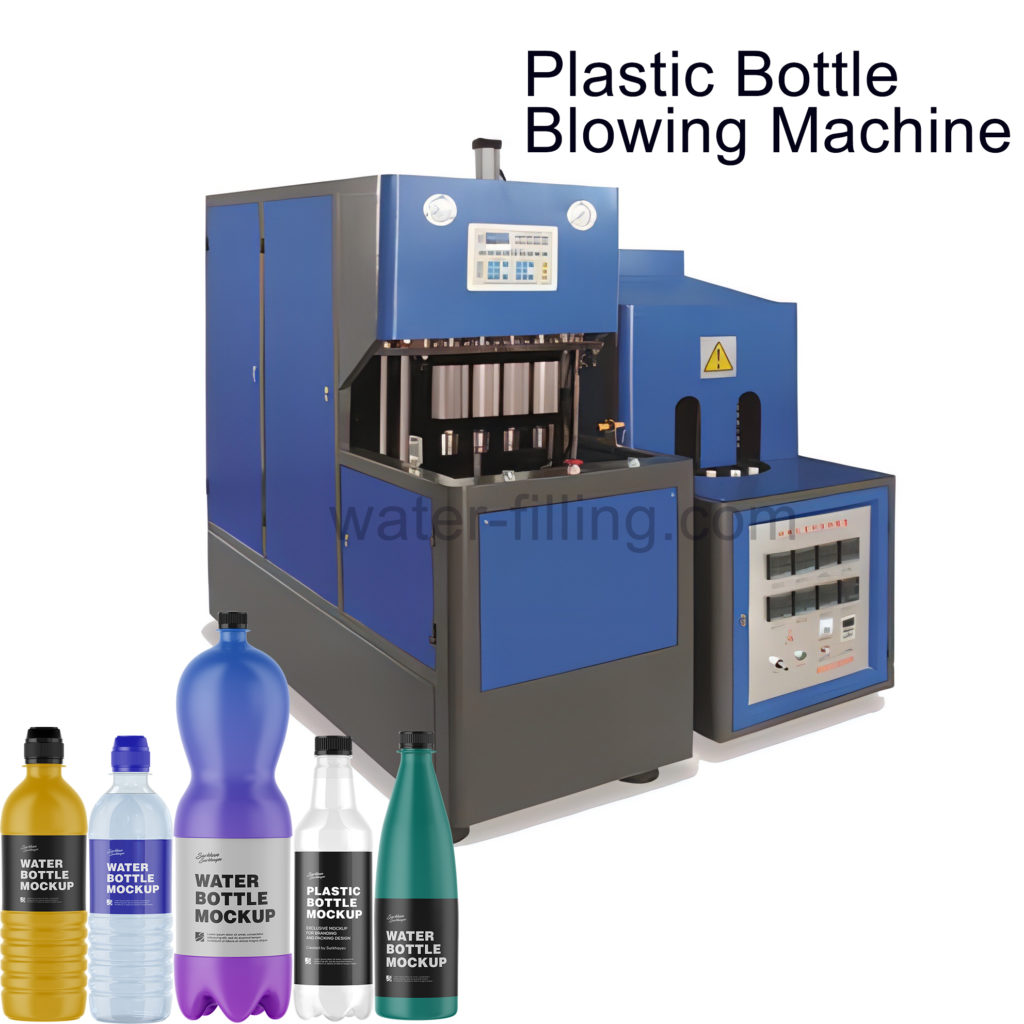 Character:
1. Microcomputer control, easy to operate.
2. Heating part is IR heating tube, controlled by imported controlling silicon. The moving part is equipped with three phases motor, and drived by frequency changing part.
3. There are left and right cylinders in sealing stretching part. the stretching length can be adjusted automatically, and the time for air blowing can be adjusted freely. the bottle blowing can benefit from doing so.
4. The waste air can be exhausted from a silencer inside the machine. It reduces the possibility of creating water drop, and is prevented from making noise.
5. There are two air storage barrels inside the main machine and one high, one low, pressure-reducing valve.
What Is Materials Of Blow Molding Machine ?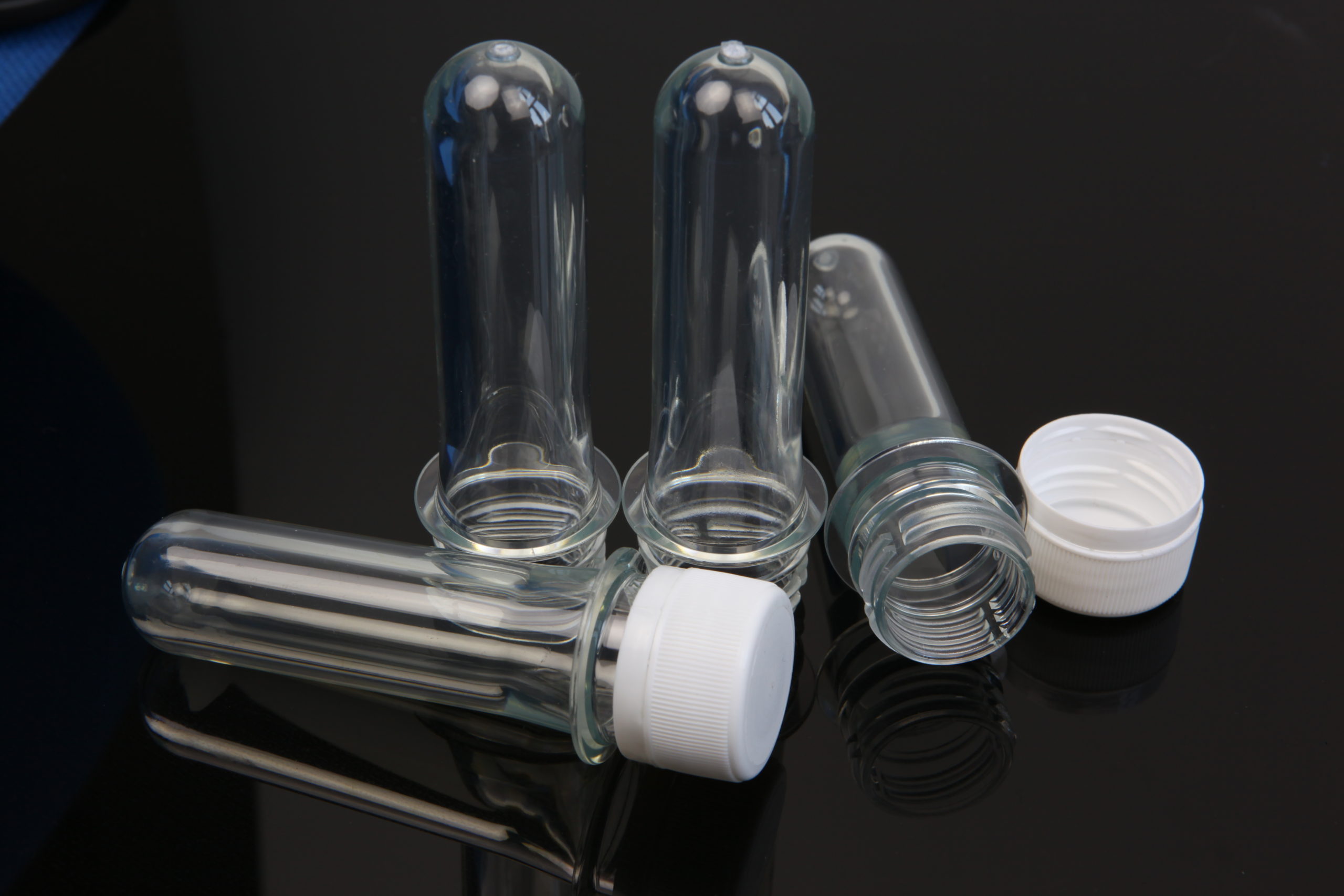 Preform is materials of plastic bottle, It is produce by injection molding machine. Because injection molding machine is expensive and produce technolgy is difficult. So that most bottle water company is buy preform from prefessional injection molding machine.
The preform are strong and small. one box can package 500psc, and 40hq container can filler half an million piece.
The plastic bottle is not good for freight, because plastic bottle is light and take room, so that freight cost expensive, what's more, the freight will easy damage a lot plastic bottle.
Whole Blow Molding Machine Running Process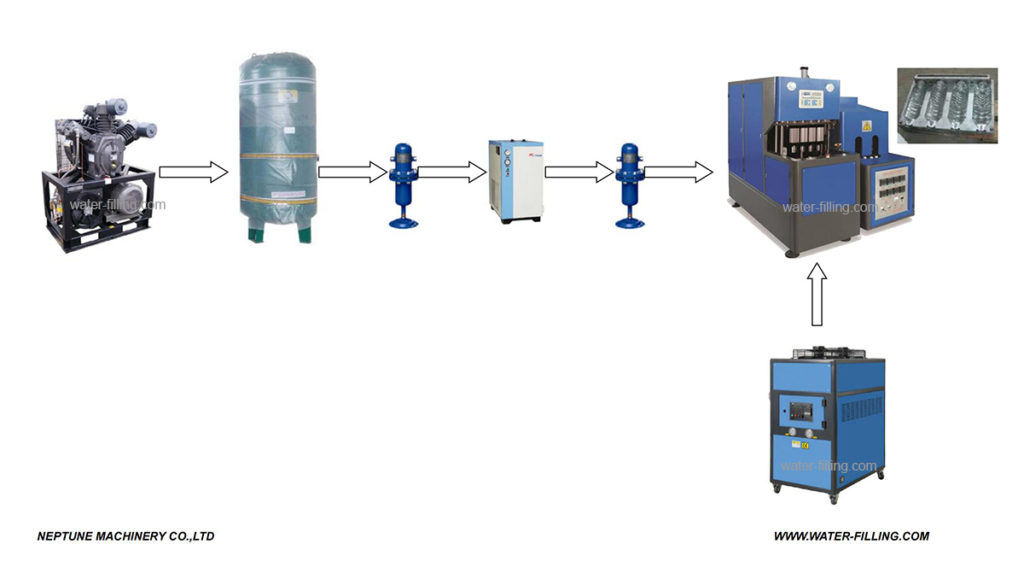 Air compressor offer high pressure air both for machine blowing and opretion. For air pressure stable, so that need an air tank for storage air. Because of the air is use for blow plastic bottle, if dirty will pollution inside of the plastic bottle. So need air filler and air dryer, then add another air filter after air dryer. If weather is hot and factory hot, and long time use mold is super hot. So that need fit an mold-cooling to cool the mold. Use air type mold cool will not pollution factory floor with an lot water. Just an little expensive than water mold cooling.
How Do The Blow Molding Machine Work?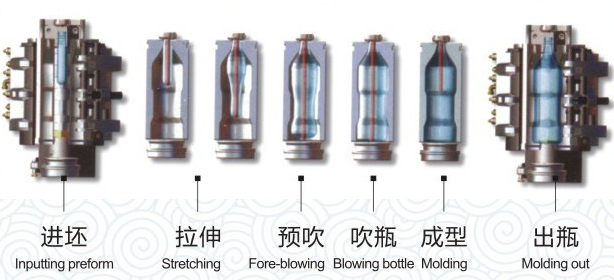 It is made use of air pressure to blowing heating well preform into idea plastic bottle, And because preform in the idea mold, so that final plastic bottle shape decide by the mold.
Worker need manual insert preform on heating oven. And got the heating well preform to the blowing machine. Then press the button and blow the air into the preform. So that the preform will blowing into idea plastic bottle according the bottle mold.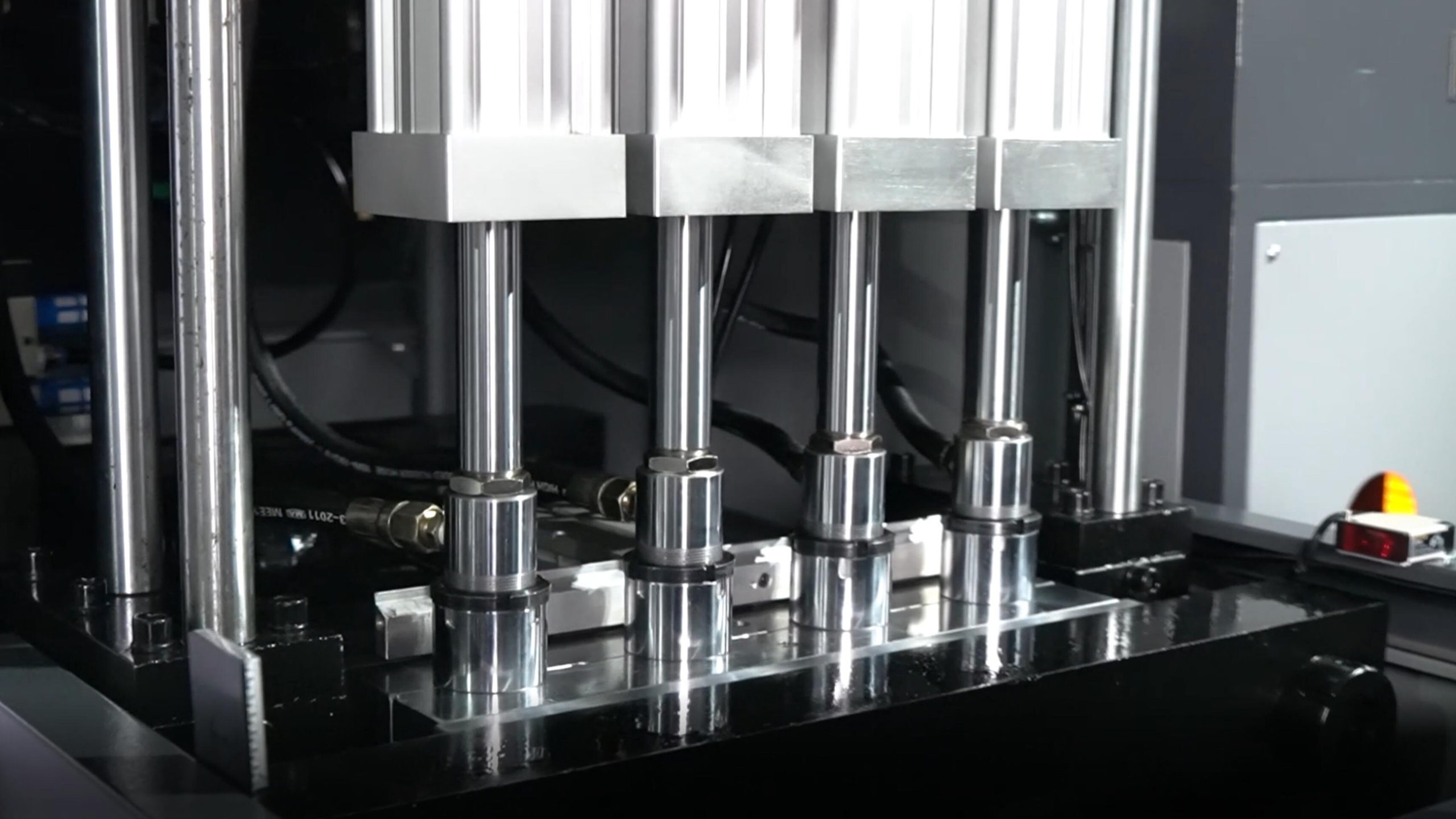 High quality 4 cavity semiautomatic blower, auto fall down bottle to save manual remove labor cost.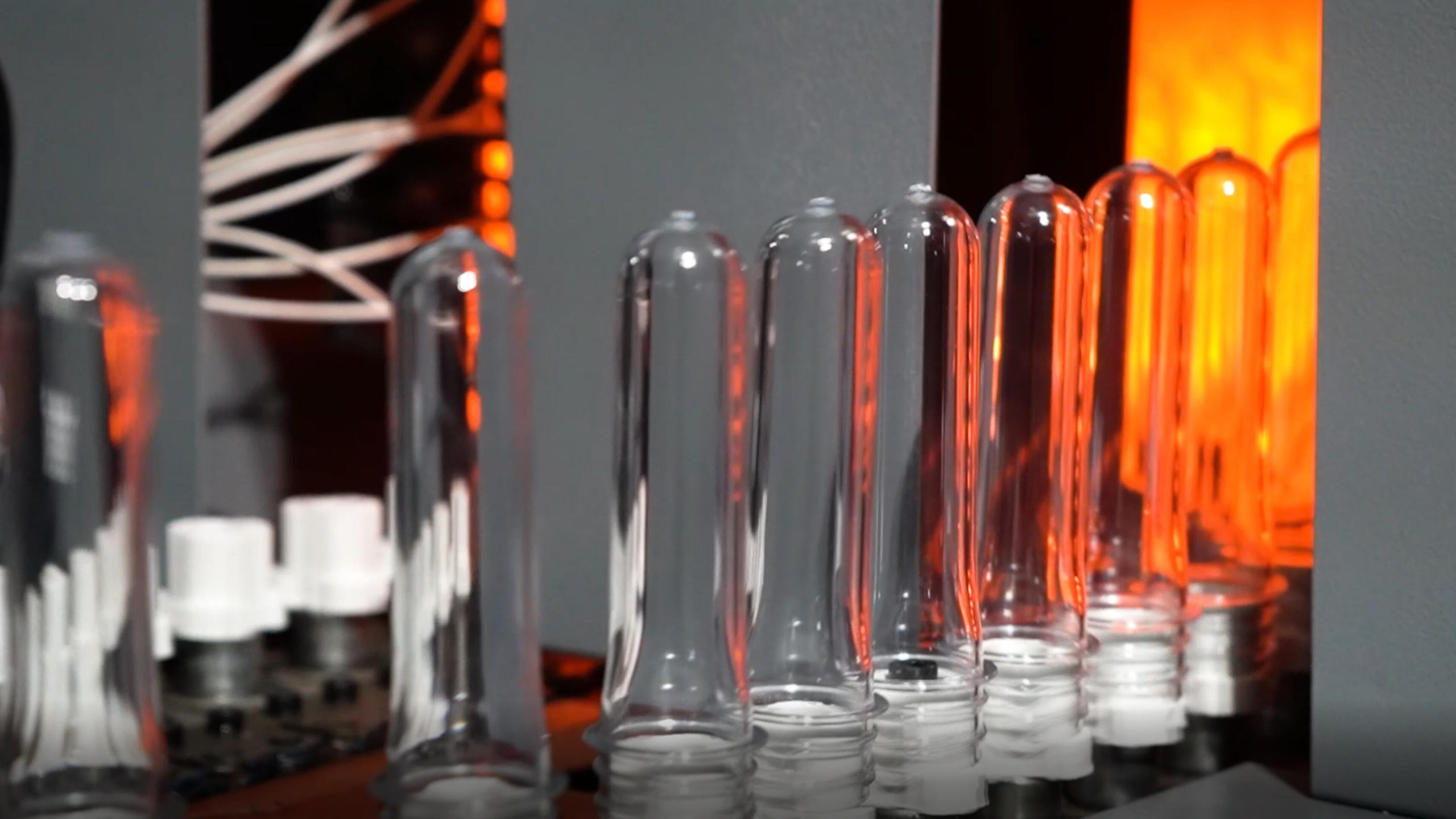 High quality bottle-preform heating oven.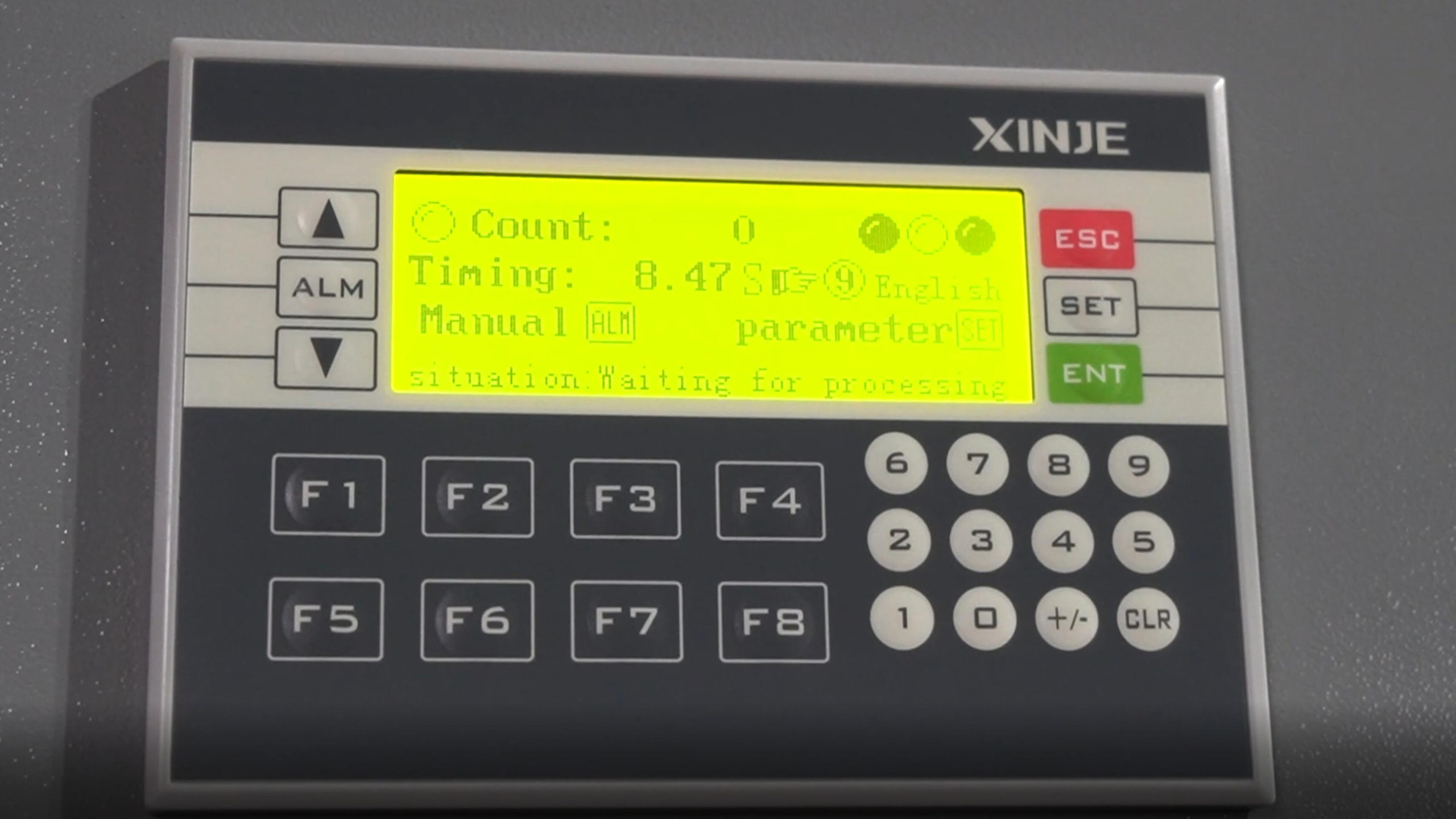 Microcomputer control, easy to operate.