Complete 5 gallon water bottling machine plant from A to Z for refill 3 gallon to 6 gallon bottled water. Factory directly selling at the lowest price.
It is an mineral water production plant which use to produce 3gallon 5gallon & 6gallon bottled water. The bottle is reused and every time need brusher ouside and inside washing, city water push washing and pure water washin to make sure the bottle clean.
It included capper removed machine, leak check machine, brusher washing outside and inside machine, push washing and filling capping machine, mouth sealing machine.
All parts contacting water are made of 304L stainless steel with ozone-resistance and in compliance with food-grade standards.
Nozzles are inserted to rinse the bottles thoroughly.
Fast cycle system is adopted for heated alkali rinsing, drastically decreasing electricity consumption.
Controlled by PLC, it is fully automatic.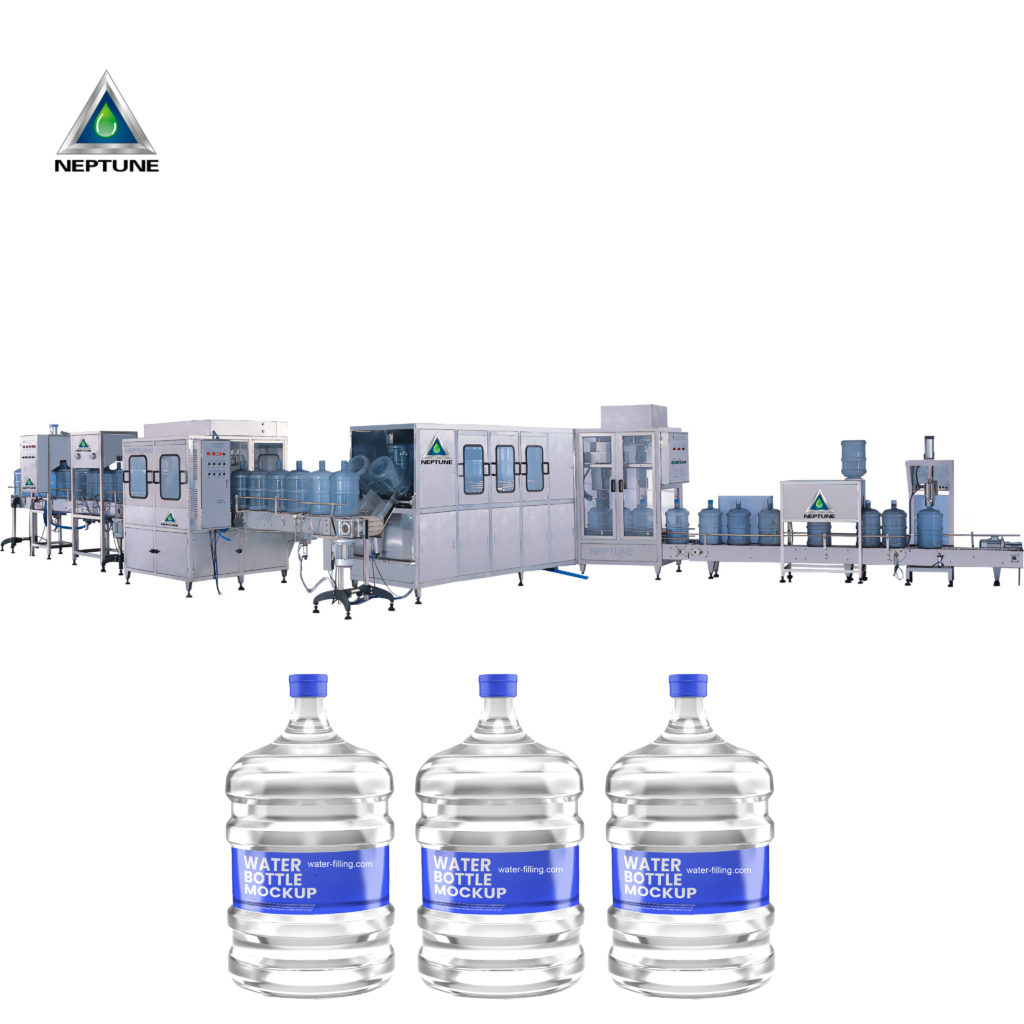 Layout Of 5 Gallon Water Bottling Machine Factory
Features
All line controlled by PLC, the water bottling machine integrates the functions of 3/5 gallon bottle washing, filling and capping on one set of machine.
It is manufactured in compliance with the standard of China Purified Water Industry Association, and with reference to overseas newest type of machine
It not only have advanced technology, high automatically, easy operation and reliable performance, but also small size, small weight and beautiful appearance, anti-corrodibility, thorough disinfection, effective antipollution and high quality. The device employs key components of electrical appliances and metal materials manufactured by brand factories at China and abroad. Nonmetallic components are manufactured elaborately by wearable materials, such as nontoxic PP plastic, etc.
How does an 5 gallon Water Bottling Machine Plant running?
Process
Removed the cap
Leak check
Brush washing the outside and inside of the bottle

Automatic turn 180degree loading

NaOH and pure water push washing
Auto filling and pressure capping
Cap washing and loading
Mouth an label sealing the bottled water
List of main machine
Automatic Caps Removal Machine
It is applicable for the 5 gallons recycle bottle cap pulled and absolutely necessarily for the empty bottle retreating assembly with the integration of simple configuration, effective cap pulled, little dilapidation to the cap, small distortion and efficiency for using.
Automatic Bottle Internal&External Brush Washer
Automatic Bottle Internal and External Brush Washer is an inside and outside washing device for 5 gallon recycled bottle which is manufactured according to the clients' requirement. After coming into the market, it is well accepted by water equipment industry from home and abroad.
Auto Cap Feeding & Washing Machine
Washing Cap and Loader Cap Machine manufactured by our company. This machine, a newest practical product, is manufactured in order to consummate a complete set of product line.
Automatic Bottle Loader Machine
It is not only with the advanced technology, high automatization easy operation and reliable performances as the genuine device from abroad, but also features with small size, small weight and beautiful appearance, anti-corrodibility, thorough disinfection, effective anti-air pollution and high quality.
3/5Gallon Bottle Washing Filling Capping Machine XG-100J(60-900BPH)
PLC-Controlled Microcomputer Automatic Bottle Washer & Filler manufactured by our company, which concentrates the functions of bottle washing, filling and capping with 5 and 3 gallons on one set of machine and manufactured with the standard of America Drinking Water Industry Association & with reference to overseas newest type of equipment.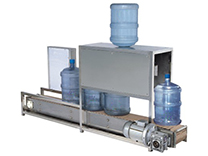 Mouth sealer
The equipment is adopted Heat-generating Tube to shrink the membrane sticking to the cap.It is manufactured according to the clients' requirement which is used for bottles of 3gallon or 5 gallon after filling. After coming into the market, it is well accepted by water factories from home and abroad.
Refill 5 Gallon Bottled Water Business
A 5gallon bottled water weight 20kg, so that dilivery to customer is an hard work.
A big cost of 5gallon bottled water business is dilivery the bottled water to consumer home or office.
Most factory running the 5gallon business by themseleves without channel or agent. Because a factory everyday just produce 1600bottles. And every bottle is heavy, so that factory mostly builded closed to the city or town. Means factory closed to the customer.
Factory running sales and dilivery themselves is this business natural features.
How profit of an 5 gallon bottle water business?
Bottled is reused. Cap and water materials cost lesst than USD 0.2
An 20liter bottled water wholesales price ranging from 1dollar to 4dollar. Most usually sales at 2dollar.
Worker dilivery 1psc 20l bottled water to customer salary is USD 0.3
So that 1psc 20l bottled water gross profit is USD 1.5. And per day 1600bottles. It can profit USD 2400 per day. Any customer not only working time need drinking pure water but also holiday need drinking pure water. One year it can profit about USD 87600
Why still now have chance to setup an 5 gallon water bottling machine plant ?
The world most big profit business is been hold by big brand. But for 5gallon safe drinking water. Every bottle is heavy. Dilivery cost big and take time. Fresh safe pure water is love by customer. Some small town and city population is not very big. So that big brand no willing to build an factory there. For big branch, even an manager salary is over hundreds thousand dollar.
And small city and town, not only salary will increase, but also population will increase. So that safe water inquiry will increase.
About 5 gallon pure water bottling plants
The electrical problem can be handled with a generator and in order to get water in most cases you will need a deep well or even have water trucked to site.
Benefits of 5gallon pure bottle water business:
Good way to bottling water for university
Can be very profitable; especially in large volume.
The 5gallon bottles can reuse for 2year.
Much better use of plant space as the units are compact.
Environmentally friendly, No pollution at all.
Much lower cost to set up plant.
Street sellers will sell to create jobs.
How Can Neptune Machinery Help?
Neptune Machinery offer 5gallon turnkey completely water bottling plant that are currently used worldwide.
We will assist you with establishing your 5gallon bottled purified water plant from the conception of the idea to when you are ready to open your plant.
Please call or email us to find out more on this profitable business and to see how Neptune Machinery can help you start your operation. 5Gallon bottle water plant also need Pure water supply which most use reverse osmosis water treatment machine and bottle blow molding machine.
Related machines
Produce your own unique jar bottle in your own factory. Save freight cost.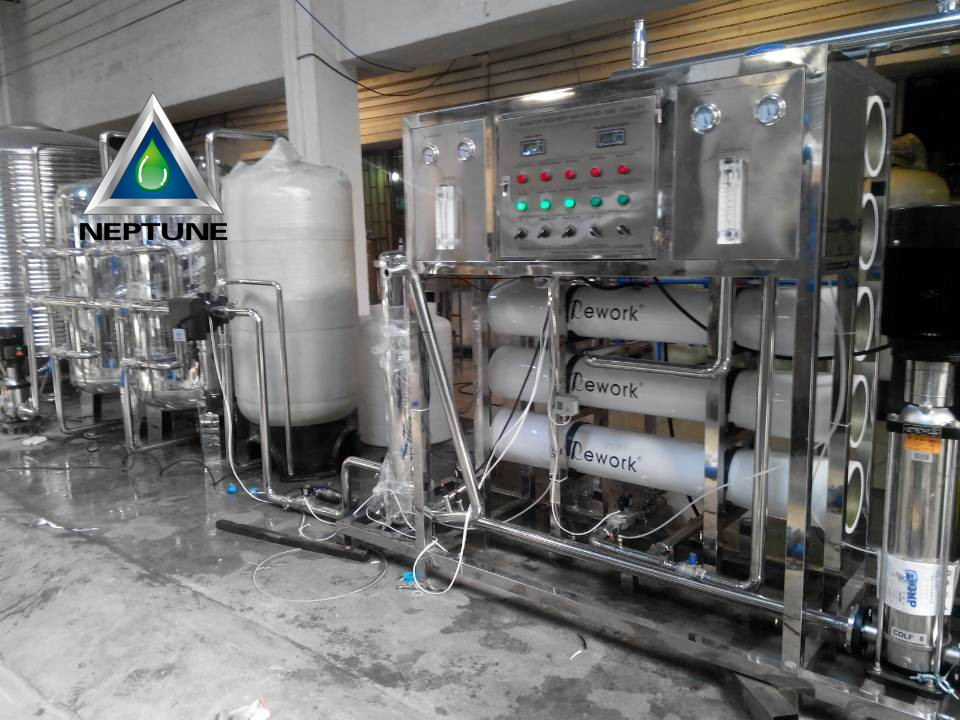 RO system removed everything of raw water to produce the pure water. Supply pure water for the 5gallon bottled water production plant.