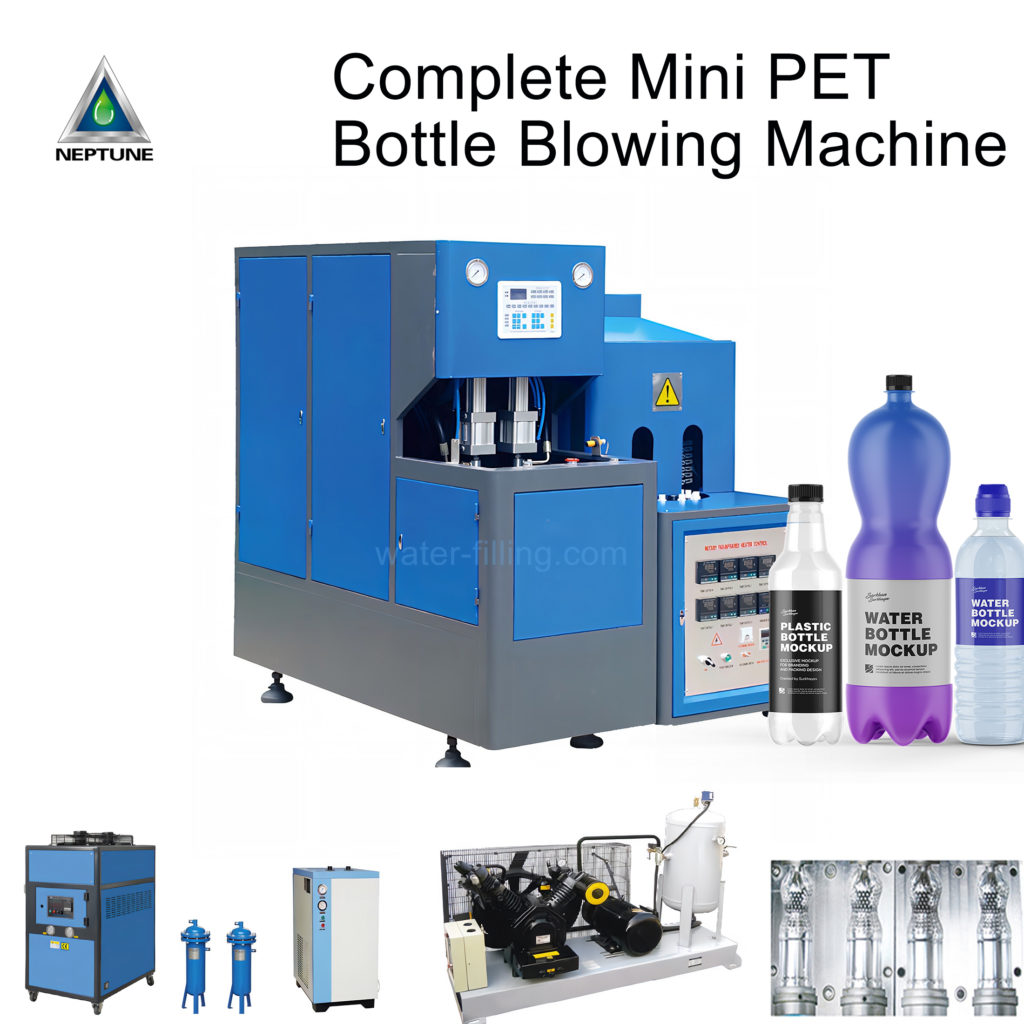 This pet bottle blow molding machine can produce two plastic bottle once. It is very mature PET bottle making machine. A lot bottled water company first start making plastic bottle with this bottle blowing and making machine. It is the smallest and cheapest bottle blowing machine in the world.
It is widely used to produce 100-2000ml carbonated bottle, mineral water, pesticide bottle oil bottle cosmetics, wide-mouth bottle etc.

Technique Parameter
| | |
| --- | --- |
| Product material | PET |
| Volume | 100ml to 2000ml |
| Theoretical output | 800 Bottles/h |
| Preform length | 15mm-350mm |
| Preform inner diameter | φ5mm-38mm |
| Max.mould plate Dimension(L x W) | 350x380mm |
| Max.mould thickness | 180mm |
| Clamping force | 45KN |
| Mould opening stroke | 160mm |
| Main blowing machine (L x W x H) | 160x60x161cm |
| Main blowing machine weight | 500Kg |
| Heater oven (L x W x H) | 187x63x145cm |
| Heater oven weight | 250Kg |
| Power inquiry total | 17.5kw |
Video of the Mini PET Bottle Blowing Machine
It need worker manul insert pet-preform on oven and carry the heating well preform to the blowing unit.
And then need worker press the button to start blowing plastic pet bottle
Advantage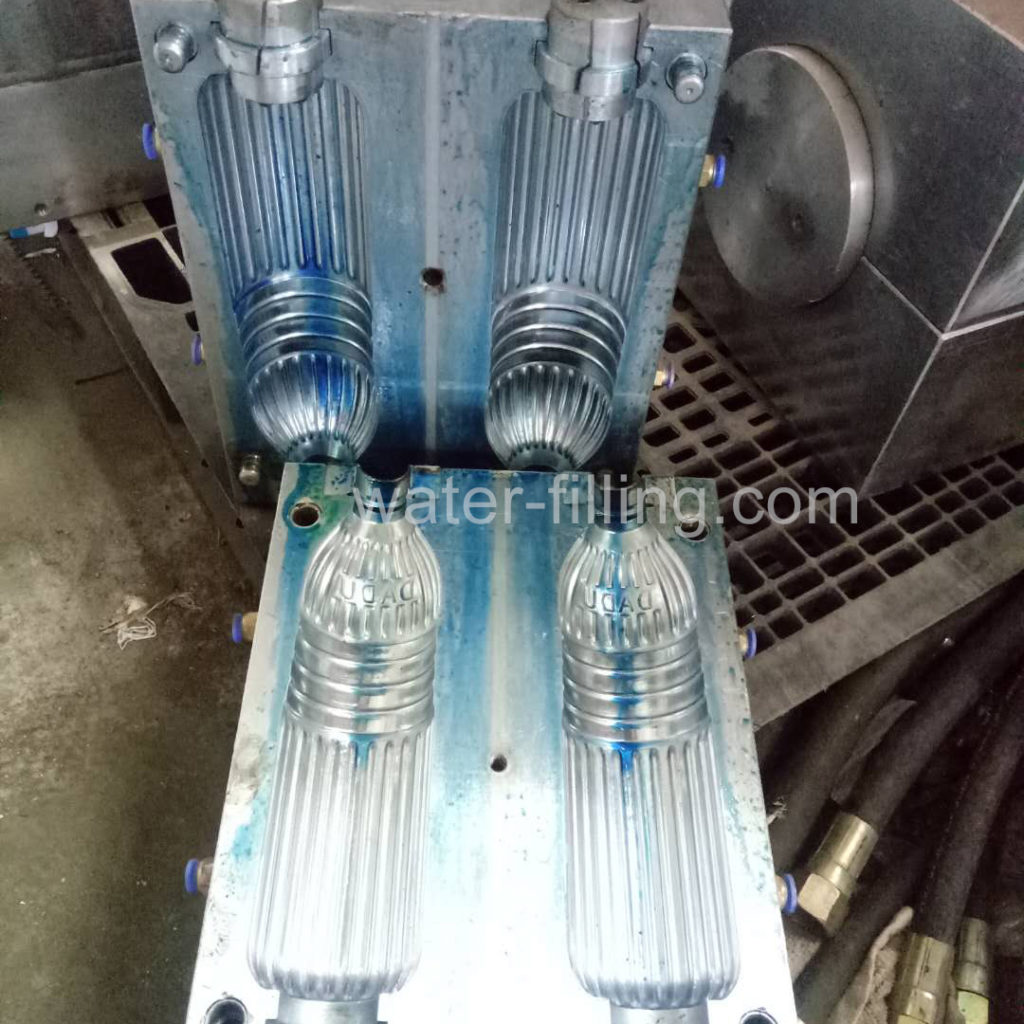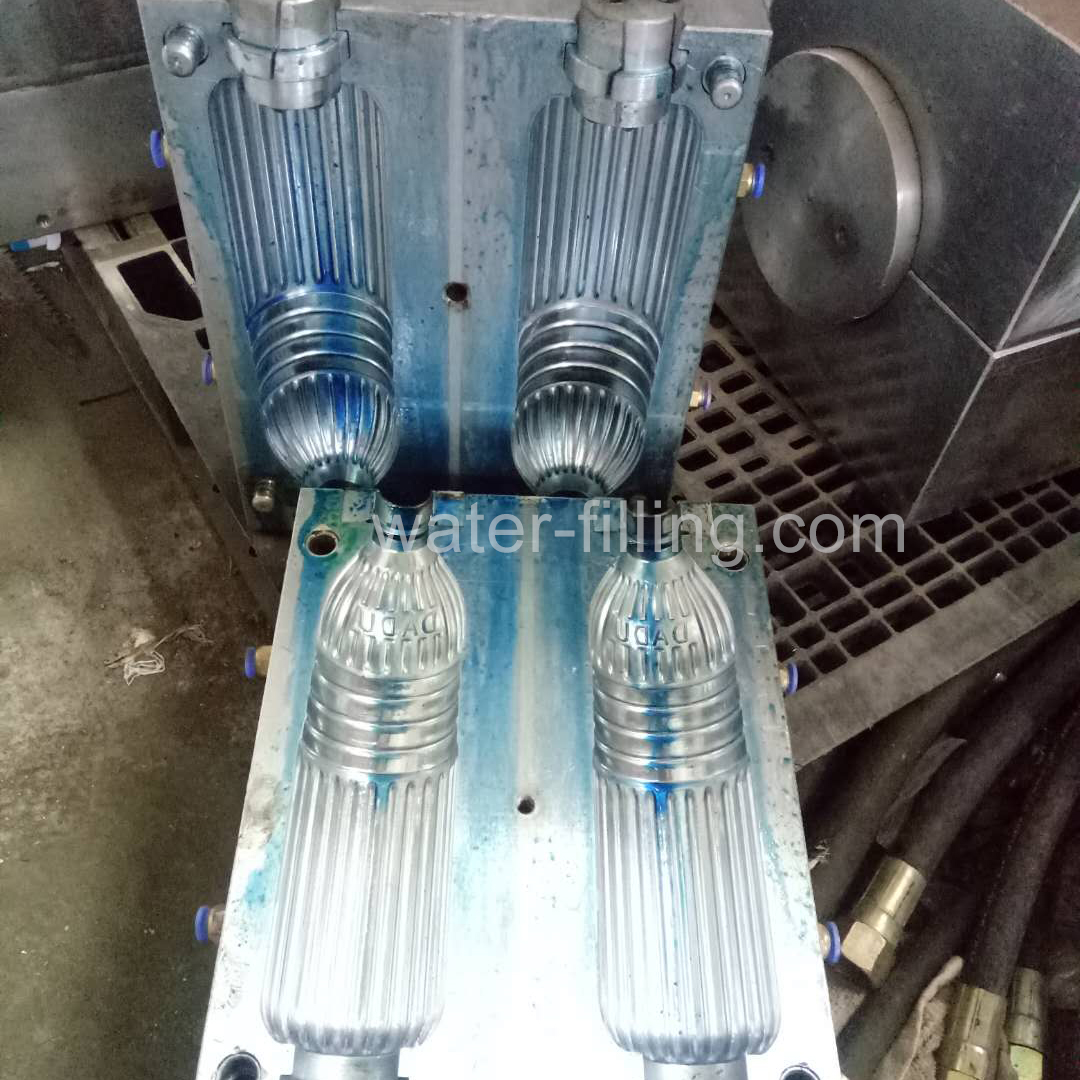 Adopting double crank to adjust mould ,heavy locking mould, stable and fast ,Adopt infrared oven to heat the perform ,the perform rotated and heated equally.
The air system has been divided into two parts: pneumatic action part and bottle blow part to meet the different requirements for the action and blow .It can provide sufficient and steady high pressure for blowing large irregular shaped bottles.

The machine is also equipped with muffler and oiling system to lubricate the mechanical part of the machine.
The machine can be operated in the step-by-step mode and the semi-auto mode.
The machine is small with low investment, easy and safe to operate.
Equipment list of an complete mini pet bottle making machine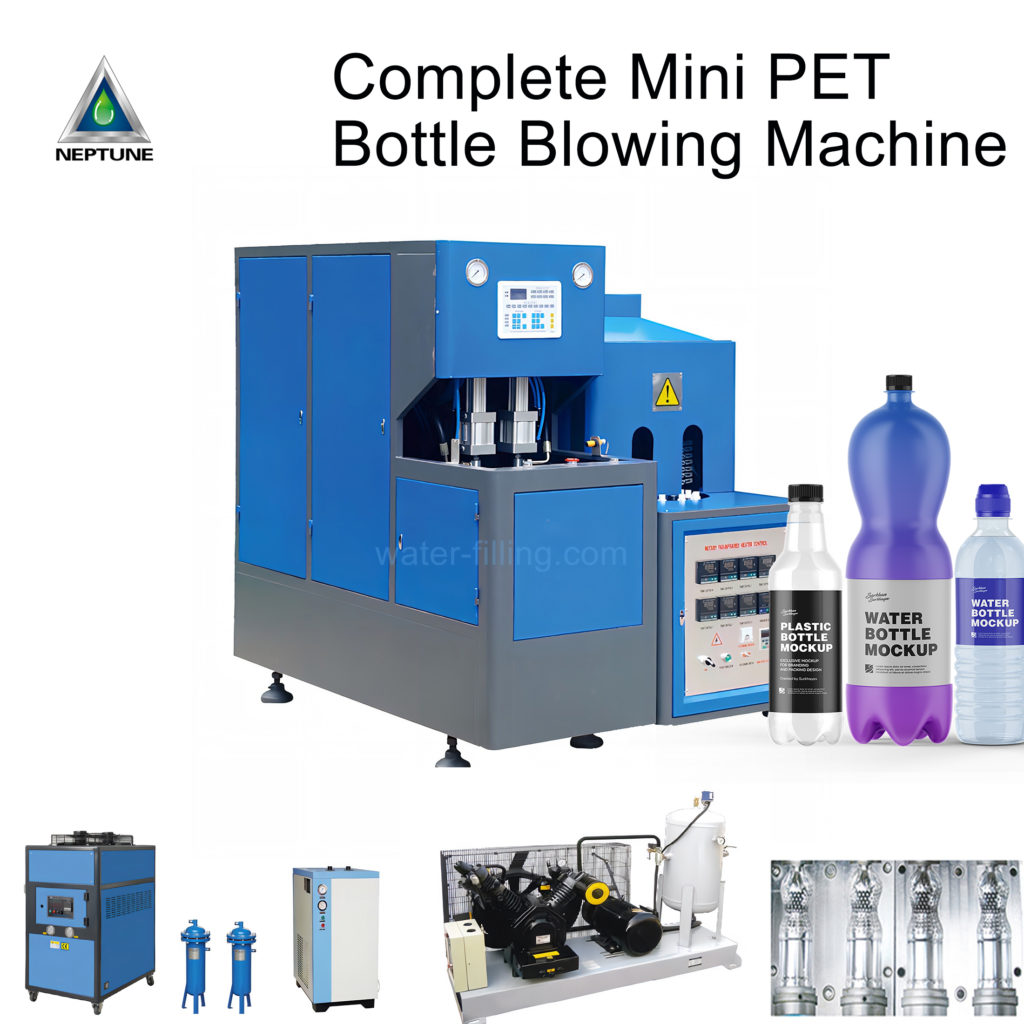 2Cavity Blowing Bottle Unit
Heating Oven Unit
High pressure air compressor(0.75M3/30KG);
Air Dryer with 2psc Air filter
Two cavities blow mold (200-2000ml)
Chiller for Mold 3HP
Spare part & High pressure Pipe
Easy and safe use. It is the blowing plastic pet bottle part unit.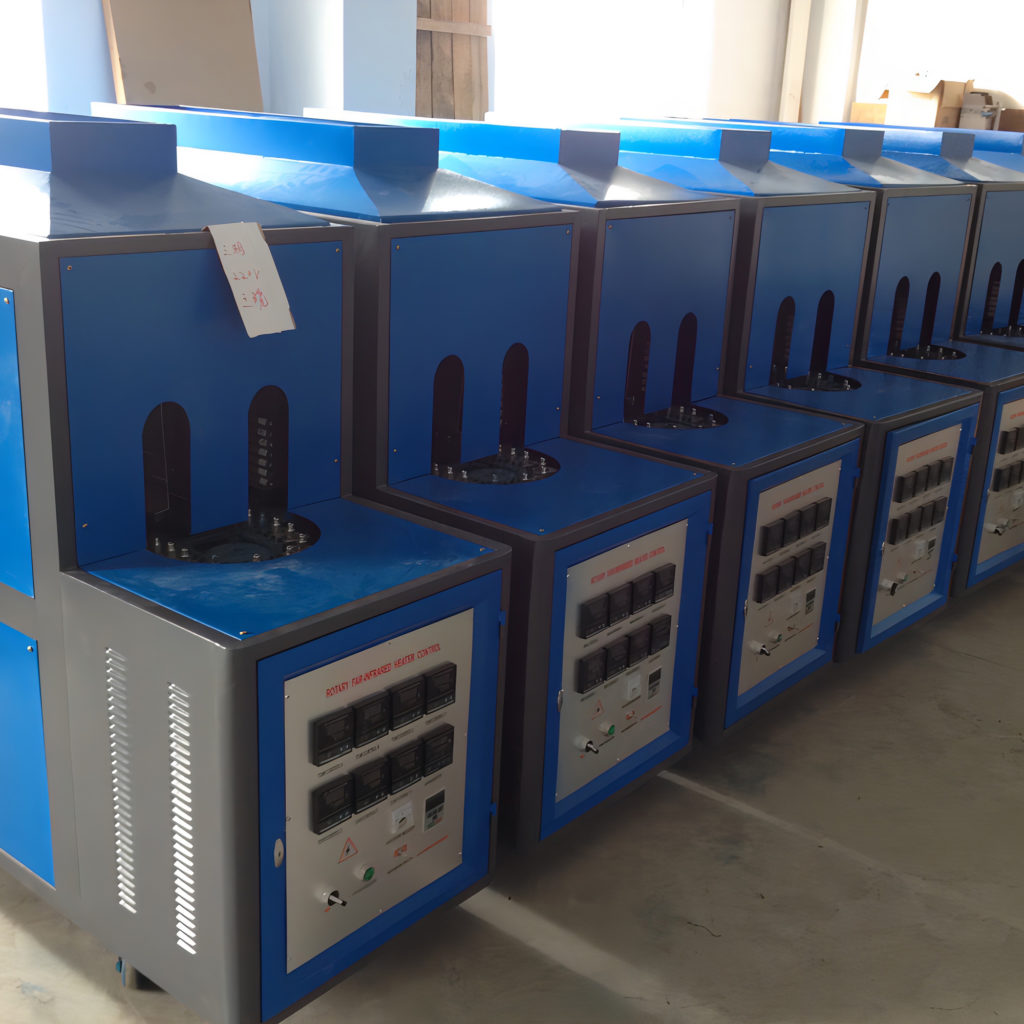 It is the heating oven which used to heating the pet preform.
The high pressure air compressor supply air for blowing the bottle.
Air dryer with 2psc filter which use to clean and purified the air from the air compressor.
It is used to cooling the blow mold. Make sure the bottle making process continued.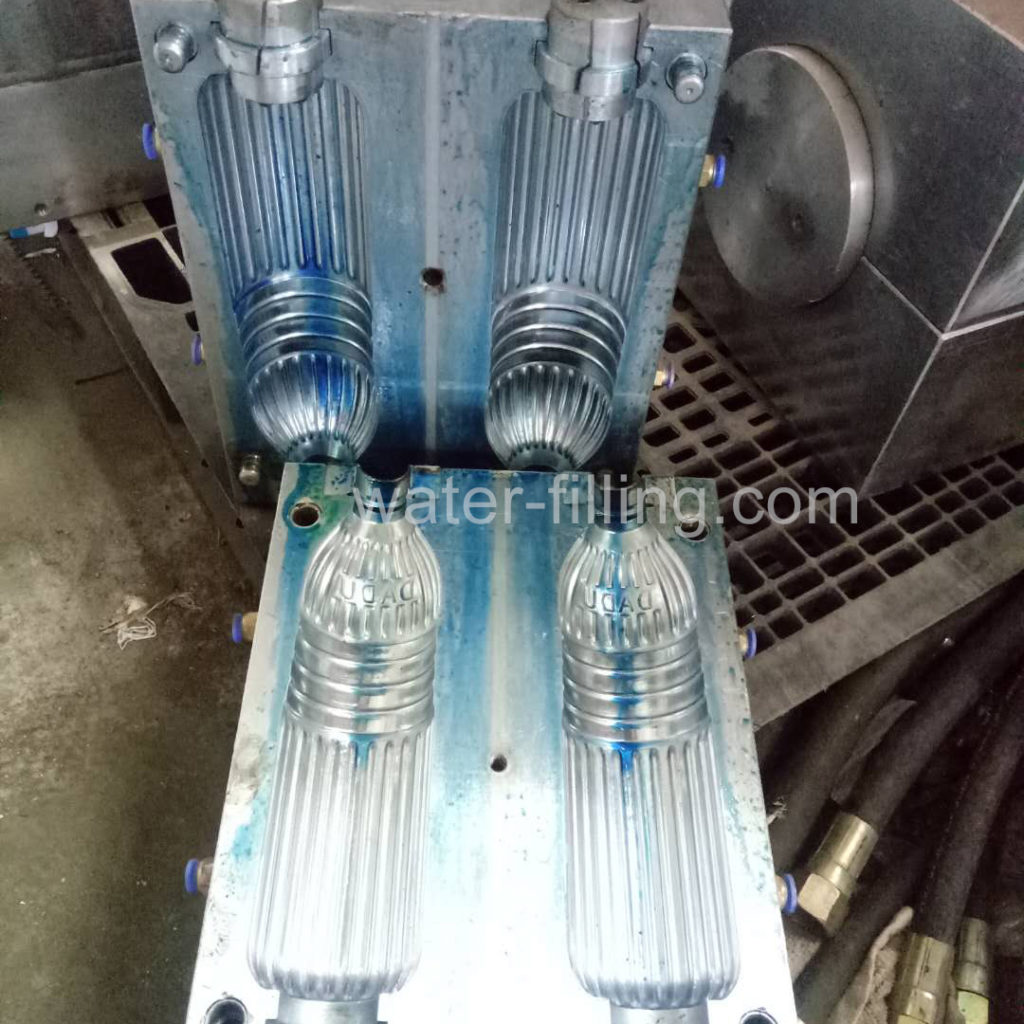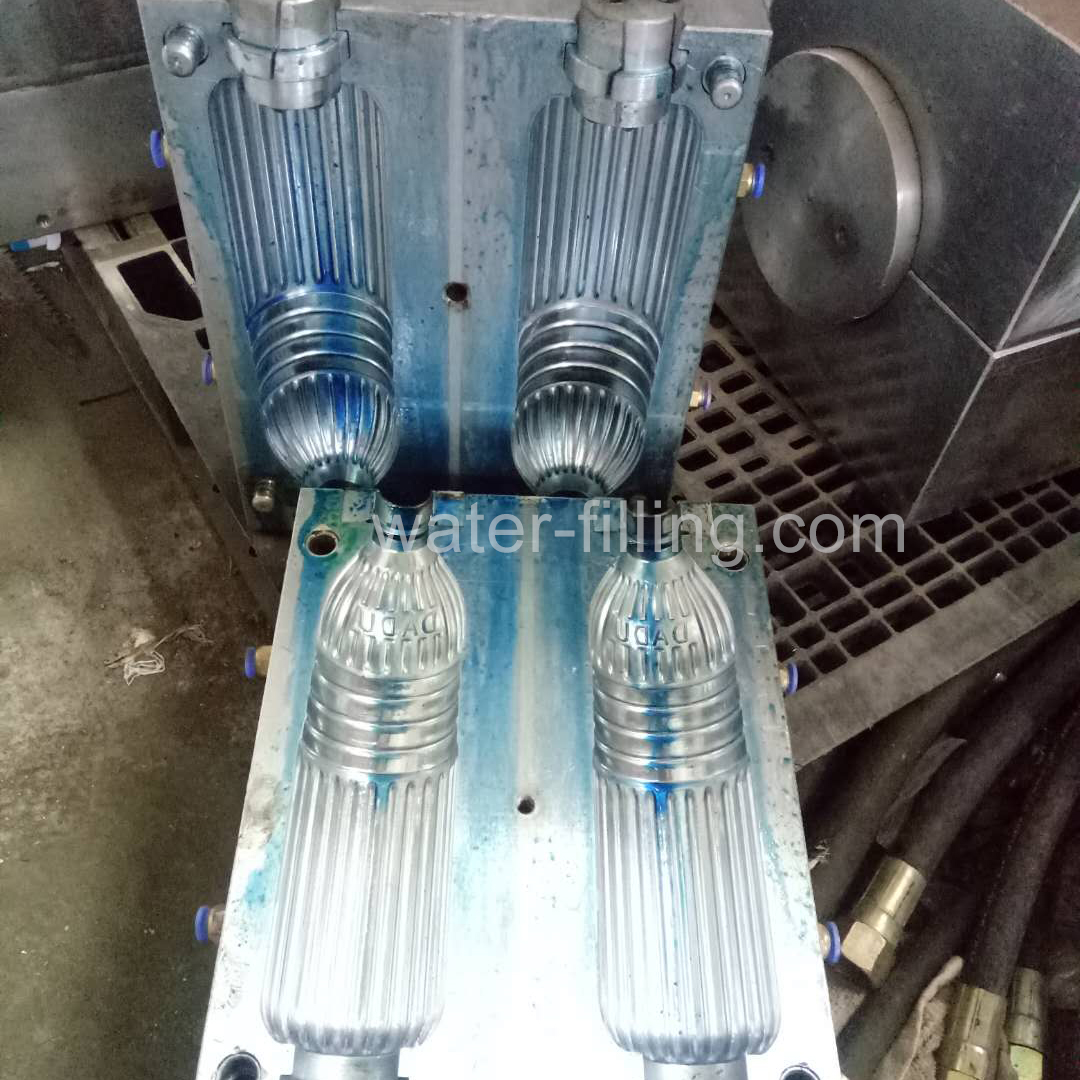 Through change blow bottle mold and can produce different shape and volume bottle.
Got an beauty bottle design
NEPTUNE machinery have expert engineer drawing and design the plastic pet bottle. They are professional and experienced.
Every plastic bottle design mark and line must 100% clean when it prodution into an really pet plastic bottle.
The bottle design structure must good. So that will not easy fall down on conveyor belt of water production plant. Can not easy fall down shop freezer.
Got an Art Plastic Bottle
An beauty plastic bottle will attract consumer. When it show on Shelves of supermarket. People will been attract by it. And want touch it and have an detail look.Then maybe more purchasing. Anyway, an bottled water is not expensive. A little attract will let consumer buy it.