NEP-2000 bottling line is automatic complete bottle water production line. Shorter middle producing process and fast got final wrap package bottle water which save factory room. All middle goods sending with conveyor belt without any human being hand touch.
2000BPH Water bottling plant automatic accomplish whole process from blowing bottle,water purify,washing, negative pressure, filling, settle cap, buckle cap till screw cap, bottle labeling, bottle printing, bottle packing.
Trait
Capacity Scale of Bottle: 250—2000ml;
Capacity of Production: 2000 Bottles Per Hour
Drink Kind: Mineral Water, Pure Water, Spring Water , Distilled water.
Material: Preform, Cap, Raw Water, PVC Label, Roll PE film
Why NEP-2000 bottle water production line ?
According Bottled Water Plant Production Hazards Analysis Critical Control Point(HACCP) The biggest pollution of bottle water production are human being hand and air of the factory. To solve the two pollution of bottle water production. NEPTUNE design NEP serise bottling line.
Automatic conveyor bottle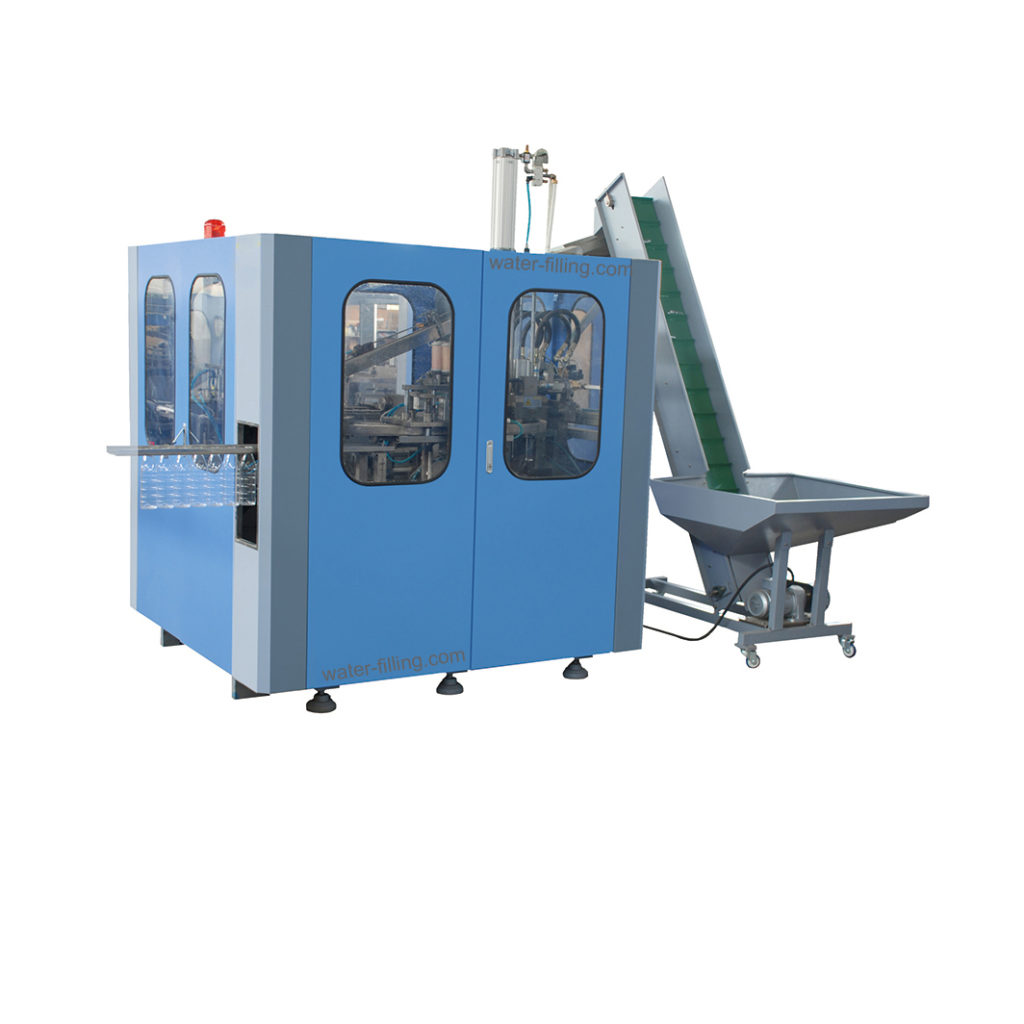 According the HACCP, To avoid human being hand touch the plastic bottle. Neptune design the automatic blow molding machine air conveyor outlet plastic bottle way. It can automatic connection with air conveyor inlet of the 3-in-1 filling machine. Save labor and keep clean.
Stainless steel production box
Bottle making machine and 3-in-1 filling machine are protect by an stainless steel box. It can reduce the air pollution the bottle or bottle water. Keep blowing bottle and filler in an clean envorenment. Also, factory clean is important for production.
Shorter Production
Big bottle water company usually build an 40000bottles per hour line in big city or Country. High speed lead an lot question. Neptune aim at smaller speed machine 1000bph-8000bph. Shorter the production can save room and reduce the risk of the middle production pollution.
Bottle Water Prudction Factory Layout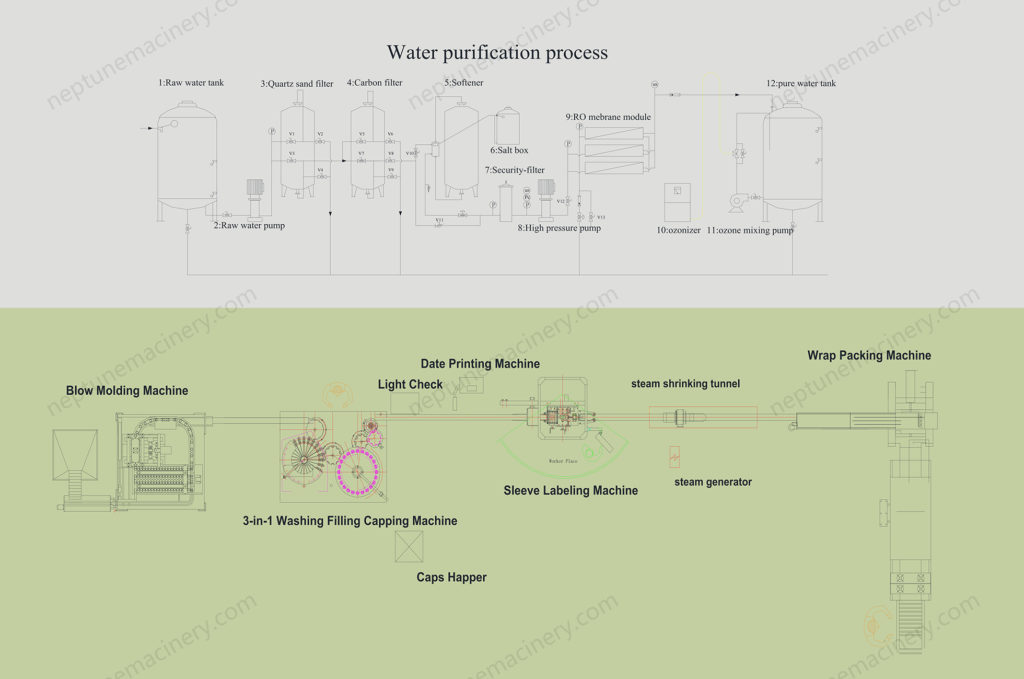 Preform automatic loading by the preform unscrambler, after heating it will blowing into plastic bottle by the blow molding machine,and send out to the air conveyor system of the 3-in-1 filling machine which collect washing bottle,filling pure water into bottle and capping the bottle, the product is driven by transmission motor. Sleeve labeling machine will automatic put the PVC label in the right place of the bottle water and shrinking by the shrink tunnel, Wrap shrink packing machine will finished the last step which use PE film to packaging 6/12/24 bottles water into one packaging and will convenient for customer to carry.
Video of the 2000bph bottled water production line
Take an 10meter width and 20meter long production room.
2000Bottles/H depend on 500ml bottled water.
It can through change mold to produce different shape and volume bottled water in one bottling plant.
2000BPH Auto Water Bottling Plant is love by most of our customer. It has advantages, such as high automation level, compact structure, beautiful appearance, convenient and simple operation, safe and reliable and adjustable continuous production capacity and others. It is mainly suitable for bottling of round or square polyester bottles. According to the demands of different specifications of users, it is only changed a little in design to meet the user's demands.
2000BPH Automatic Whole Bottling Line Mainly Included:
The capacity of production is 2000 bottles per hour regard 24hours per day as standard. If running 24hours per day. Its production is 48000bottles per day. 2000BPH is the Synchronize production of this line, Every machine must bigger than 2000psc per hour speed. The most expensive machine of this line is blow molding machine. So that to reach the biggest efficiency, the smallest production machine is the blow molding machine which speed is 2000bottles per hour. Other machine capacity is bigger than 2000 bottles per hour inquiry.
How an 2000BPH water bottling line profit ?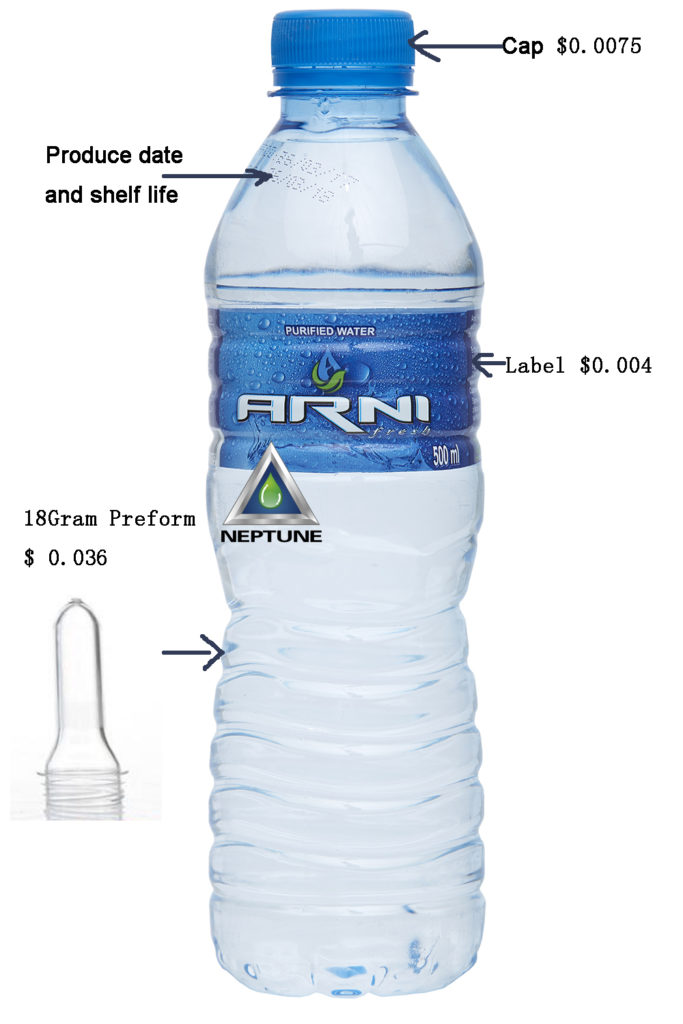 500ml bottled water as sample Materials cost as follow:
| | |
| --- | --- |
| Cap | $ 0.0075 |
| Bottle=Preform | $ 0.036 |
| Label | $ 0.004 |
| Wrap Film | $ 0.003/psc |
Total $ 0.0505
An 500ml bottled water materials cost $ 0.0505, usually factory selling it at $0.010-0.12 to agent and shop when competition is fierce. And some factory selling it at $ 0.2 if local only one factory.
An 2000BPH water bottling line per day can produce 20000psc 500ml bottled water. Per month can produce 0.6 million piece 500ml bottled water. If lower profit 0.05 per bottle. Bottled water factory can profit USD 30000 per month. Then cut labor and water, electricity cost which total not over USD 8000. So that one 2000bph water bottling line can profit USD 22000 per month. If local just only one factory. without any competition. The profit willing increase 300% .